Nepal is a nation steeped in mystery and myth. The country is revered for its magnificent mountain panoramas and spellbindingly diverse landscapes. With a temperate climate and a profusion of animals and diverse plants, Nepal is the ultimate tourist location. The birthplace of Lord Buddha and the home of the world's highest peak, Mt. Everest, are Nepal's crown jewels. This demonstrates that the country is diverse in a unique way. Perhaps there is also the existence of cultural harmony among Hindu, Buddhist, and other faiths and diverse natural resources.
Nepal attracts tens of thousands of tourists each year. There are several vacation attractions in Nepal. From adventure sports to pilgrimage, climbing to trekking, the nation is brimming with exciting vacation opportunities.
Nepal is a Hindu Country
Nepal is South Asia's oldest country
Home to Mt Everest, the highest mountain on earth
Nepal is the birthplace of Gautam Buddha
The country has 122 languages, demonstrating vast cultural diversity.
The country has never been colonized by another country and does not celebrate independence day.
Home to eight of the world's ten tallest mountains.
Nepal is the perfect destination for trekking, mountaineering, rafting, and other adventure adrenaline sports.
Nepal is the world's second-largest freshwater source country.
Religious harmony among Hindus, Buddhists, and others.
Nepal is Asia's Amazon.
The weekly holiday is Saturday.
Nepal follows Bikram Sambat, a widely used Hindu Calender which serves as the cornerstone for the Nepali calendar. Since the calendar is around 56 years and 8 months ahead of the Common Era, Nepal celebrates the year 2075!
Home to endangered animals such as the snow leopard, the one-horned rhino, the spiny babbler, and the wild yak.
Nepal's flag, known as a double-pennon, is the most distinctive in the world.
Geography and Climate
Nepal is a landlocked country sandwiched between China and India. Even though Nepal has a land size of 147181 square kilometers, the geographical dispersion is vast. One can enjoy Mountains, high-hills, mid-hills, and flatlands ranging from the lowest altitude of 60m to the highest of 8848m.
The geographic regions of this Himalayan country are what makes it so magical. Nepal has eight of the fourteen 8000-meter-high mountains. Over 19000 snowcapped mountains and highlands serve as trailheads for well-known trekking routes, making it the most popular vacation destination for trekking and mountaineering.
Nepal has been endowed with cascading waterfalls, high-altitude lakes, verdant meadows, and terraced farmlands. Geographically, the land appears to be sculpted by a skilled artist.
Nepal has a temperate climate. It has six months of Summer (10-20 degrees Celsius) and six months of Winter (below 0 degrees to 4 degrees Celsius). The nation experiences Spring, Monsoon, Autumn, and Winter seasons in between these two climatic states.
The ironic part is that different areas with the same latitudinal position have varied temperatures. Southern Nepal is warmer, whereas northern Nepal is colder.
History
Nepal's history is intertwined with that of the greater Indian subcontinent and neighboring areas such as South Asia and East Asia. Nepal is a multi-ethnic, multiracial, multicultural, multi-religious, and multilingual country. The most generally spoken language is Nepali, which is followed by a variety of other ethnic languages.
Nepal was once a land of many dispersed kingdoms which was unified by then King Prithvi Narayan Shah. Then the kingdom of Nepal was formed in 1768 and a drive to combine what would become Nepal's modern territory. Certain previous regions were lost as a result of the Sino-Nepalese War. The conflict ended with both victories and setbacks, and the kingdom finally agreed to tributary status with China's Qing dynasty from 1792 to 1865.
The British won the Anglo-Nepalese War and ceded some Nepalese territory in the process. The Nepalese parliament opted to abolish the monarchy in a historic vote for the election of the constituent assembly in June 2006.
Nepal was formally called the 'Federal Democratic Republic of Nepal' on May 28, 2008, ending the Shah rulers' 200-year reign.
Vegetation
Nepal has five unique types of vegetation. Nepal's principal vegetation types include subtropical, deciduous temperate, coniferous, alpine, and tundra. These woodlands are home to a diverse range of animals, birds, insects, and reptiles. Nepal is home to several endangered animal and insect species. Mother Nature has abundantly gifted the country with therapeutic herbal plants.
Water resources abound even if the nation is a landlocked country. The main source of water is cascading waterfalls with glacier lakes and ponds to high-altitude lakes.
However, the presence of mountains and lush green forests has helped Nepal become the second wealthiest country in terms of water resources.
Language, Culture & Tradition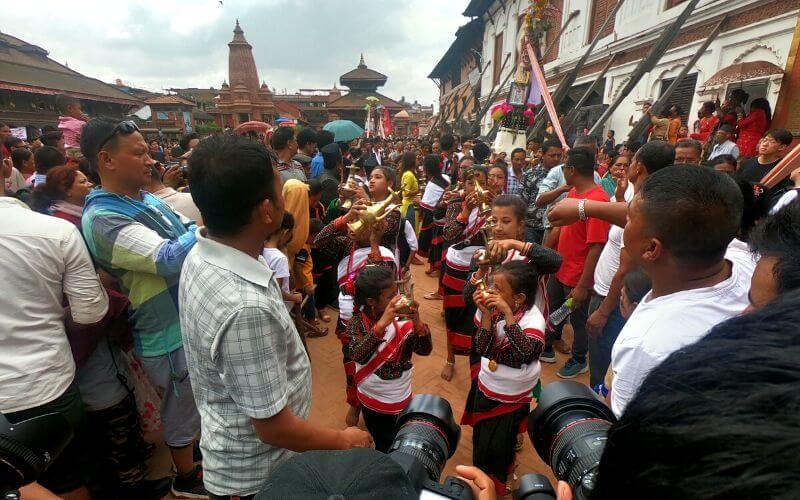 Nepal celebrates at least three festivals every month. As a result, you may find yourself in the heart of the celebration when vacationing in Nepal at any time of year. There are 122 known languages in Nepal, and Nepali is the official language. The majority of Nepalese people are Hindus.
Nevertheless, there are many Buddhism, Christianity, Muslim, and Sikh followers. Many ethnic groups speak their native language.
According to a recent poll performed by the Nepal Tourism Board, the majority of Nepalese citizens can talk in English as well. The allure of studying a foreign language has engulfed the country. Tourists visiting Nepal may now hire guides who speak their language.
Best Time to Visit Nepal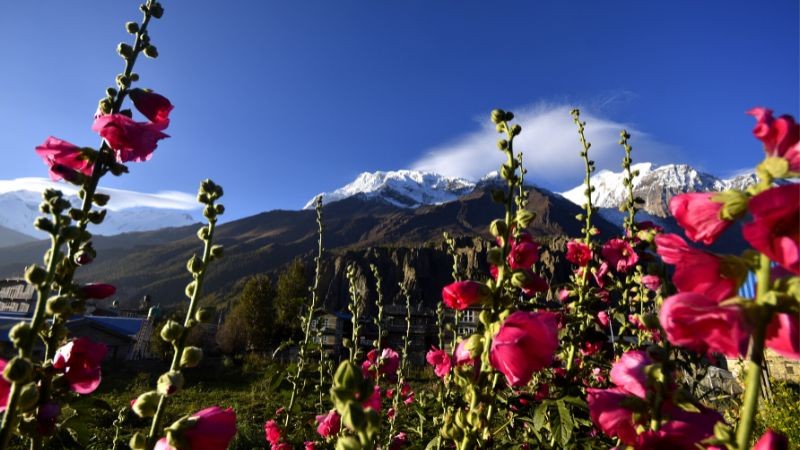 The holiday season is at its peak in the spring and autumn seasons. During this time of year, the temperature and weather are ideal for a wide range of outdoor holiday activities in Nepal. The best times to visit Nepal are in the spring (March, April, and May) and autumn (August, September, and October). However, one may enjoy a memorable vacation in Nepal at any time of the year. Whatever dates are convenient for vacationers, the tour organizers may organize a trip to Nepal.
Winter offers some of the best sceneries. Temperatures range from ten degrees Celsius during the day to zero degrees Celsius at night. If you are willing to make this sacrifice, you will be able to avoid the crowds because fewer visitors pick this season. However, high passes in the Everest area like Cho La, Kongma La, and Renjo La are usually blocked at this time of year.
In Nepal, the summer monsoon season lasts from late May until mid-September. Trekking and climbing are not recommended at this time of year, and most trekkers and climbers keep away. Most of Nepal's lower terrain has high temperatures and high humidity, leading to frequent downpours. However, because the weather is often dry and sunny in the Rainshadows of Nepal, it is the ideal time of year to explore them, such as Upper Dolpo, Mustang, Limi Valley, and Narphu Valley.
Please contact Himalayan Ecological Trekking Travel Planners and specialists for more information. We will make certain that all of your curiosity about Nepal is satisfied.